Madikwe Game Reserve
Madikwe Game Reserve is an ongoing success story. Less than 30 years ago, the site we know today as Madikwe was an economically-depressed area depraved of wildlife. Poor farming practices and mismanagement of the land made this region hardly a blip on the radar in terms of tourism.
But what we find here today is quite spectacular, a stark contrast to the impoverished area that existed before. A unique, joint-management model consisting of community, state and private sector ownership, has brought this region of South Africa's North West Province to global prominence since the reserve's inception in 1991.
Initiatives to reintroduce wildlife such as Operation Phoenix have been extremely successful and Madikwe Game Reserve is now a world class safari destination.
Within the 680 km2 fenced boundary of the reserve one can expect to see the Big 5 as well as up to 60 different mammal species like the African Wild Dog – and if you're very lucky, you might spot an Aardwolf or the one-of-a-kind rose leopard that inhabits Madikwe.
Bird species are plentiful here and the last count revealed over 300 species. The reserve's mix of open bushveld, woodland and waterhole spots provides 'twitchers' with many hours of prime bird spotting.
Plenty of accommodation options exist within the reserve. For those on a budget, the Mosethla Eco-Bush Camp will appeal, while those with higher spend will look to the large selection of mid-range, luxury and ultra-luxury lodges at Madikwe. There are even exclusive-use alternatives for those wanting to create their own intimate experience.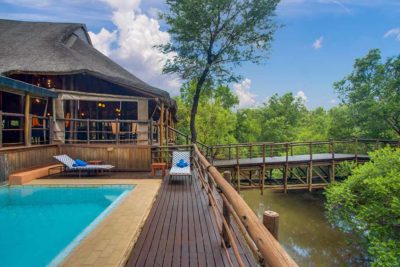 Resting along the Groot Marico River, Madikwe River Lodge hosts up to 44 guests in comfortable, secluded thatched chalets.