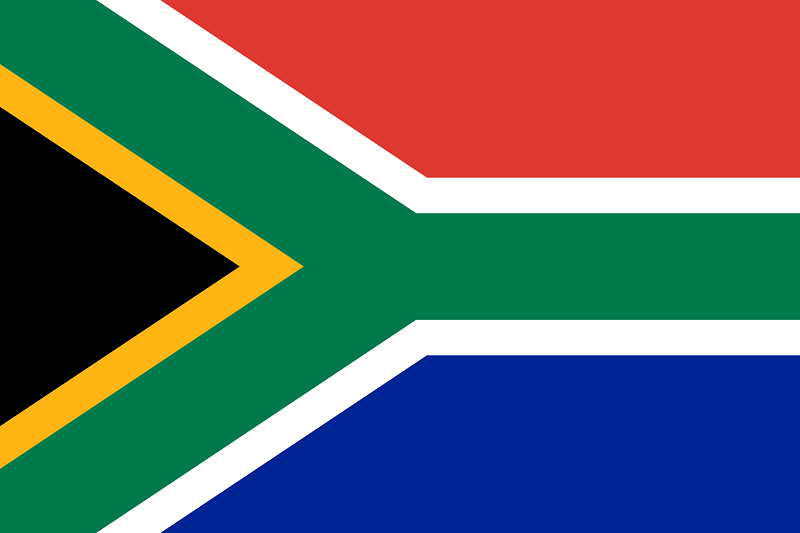 Flag
The flag of South Africa was adopted on 27 April 1994, at the beginning of South Africa's 1994 general election, to represent the country's new democracy after the end of apartheid – replacing the flag that had been used since 1928.
According to the flag's designer, the red symbolizes the blood that was shed during the various wars and conflicts in the country, that the blue represents the sky and the two oceans that flank the country, the green symbolizes the farms and the rich, natural environment of the country, while the yellow represents the natural resources, particularly gold. Finally, the black and white represent the population of the country.
Languages
11 official languages:
Afrikaans
English
Northern Sotho
Southern Ndebele
Southern Sotho
Swazi
Tsonga
Tswana
Venda
Xhosa
Zulu
Slang
Biltong – dried, seasoned meat, similar to jerky
Boerewors – a farm-style sausage cooked on the braai
Braai – a BBQ
Droewors – dried sausage
Just now – meaning 'a bit later'
Lekker – great / nice / delicious
Now now – meaning 'soon'
Robot – traffic light
Shame – expression for sympathy or admiration
Yebo – meaning 'yes'
Useful Words
| English | Xhosa | Zulu | Afrikaans |
| --- | --- | --- | --- |
| Hello | Molo | Sawubona | Hallo |
| Goodbye | Sala kakuhle | Sala Kahle | Totsiens |
| Please | Nceda | Ake | Asseblief |
| Thank you | Enkosi | Ngiyabonga | Dankie |
| Yes | Ewe | Yebo | Ja |
| No | Hayi | Cha | Nee |
Time
South Africa is two hours ahead of Greenwich Mean Time, one hour ahead of Central European Time, seven hours ahead of Eastern USA time and ten hours ahead of Western USA time.
Regional:
Southern African Development Community (SADC), African Union, New Partnership for Africa's Development (NEPAD), South Atlantic Peace and Cooperation Zone, Southern African Customs Union, Antarctic Treaty System, and the Port Management Association of Eastern and Southern Africa.
International:
Commonwealth, United Nations, World Trade Organization, International Monetary Fund, G20, and G8+5.
Capital
Pretoria (executive)
Bloemfontein (judicial)
Cape Town (legislative)
Largest City
Dialing Code
Area
1 221 037 km² (471 445 mi²)
Population
55.91 million (2016)
National Bird
The Blue crane
Public Holidays
1 January – New Year's Day
21 March – Human Rights Day
30 March 2018 – Good Friday
2 April 2018 – Family Day
27 April – Freedom Day
1 May – Workers Day
16 June – Youth Day
9 August – National Women's Day
24 September – Heritage Day
16 December – Day of Reconciliation
25 December – Christmas Day
26 December – Day of Goodwill
Religion
South Africa is a secular state whose constitution guarantees freedom of religion.
Many religions are represented in the ethnic and regional diversity of the population, with Christianity overall being dominant.
Money
The South African currency is the rand which fluctuates quite regularly. As of November 2017: ZAR100 = USD 7.08, GBP 5.321, EUR 6.077.
Rand note denominations are R200, R100, R50, R20, and R10.
Coins are in denominations of R5, R2, R1 and then 10, 20 and 50 cents.
Credit Cards
Most hotels, restaurants, travel agencies and the bigger shops will take credit cards. Most of the bigger banks will advance local currency against a credit card. Most banks have ATM's which accept Visa cards for cash. Visa is more readily accepted than MasterCard or American Express.
Currency
It's best to come into the country with either travellers' cheques, Dollars, Euros or Pounds which can be exchanged at any of the many Bureaux de Change in the main towns, and at airports. If you are offered an exchange on the black market at the borders, exercise extreme caution as they are notorious for cheating you without you even realising it. Travellers cheques attract a commission when changing to other currencies.
ATMs
ATMs are available at all banks, and are available in most main towns.
Most nationalities don't need a visa to enter South Africa as a tourist as long as your stay doesn't exceed 30-90 days.
You do need a valid passport which doesn't expire within 6 months.
Travel to S.A
Internal travel in South Africa is possible by air, road, train, bus and boat.
International Airlines
South African Airways
British Airways
Virgin Atlantic
Thomas Cook
Emirates
Cathay Pacific
EgyptAir
KLM Royal Dutch Airlines
Etihad Airways
Saudia
Lufthansa
Iberia
Air China
Qatar Airways
Delta Air Lines
EL AL Israel Airlines
Turkish Airlines
Ethiopian Airlines
RwandAir
Air France
Kenya Airways
TAAG Angola Airlines
SWISS International Air Lines
LATAM Airlines
Eurowings
Singapore Airlines
Air Mauritius
United Airlines
Qantas Airways
International airports in South Africa
Bloemfontein International
Cape Town International
Durban International
Gateway International
OR Tambo International Airport
Lanseria International
Kruger Mpumalanga International Airport
Pilanesberg
Port Elizabeth
Upington
Medical & Health
A yellow fever certificate is mandatory if you are travelling from an infected area. Malaria is virulent in the low-lying areas of the country which include most of the good wildlife destinations. Doctors advise taking prophylactics two weeks before arrival and continuing two weeks after leaving. Your chemist or doctor can advise you of the most suitable drug available as certain drugs lose their effectiveness.
Tap water in the major towns is purified and perfectly safe to drink. In the more remote areas always boil it first, except if you're staying at a lodge or hotel where drinking water is boiled already. Bottled water is readily available in the bigger towns.
Medical Insurance
Medical insurance should be purchased before you leave your own country and should include emergency air evacuation coverage if you're spending any time in remote parts of the country.
Vaccinations
By law, no vaccinations are required to enter South Africa. Most of the main tourist destinations are malaria free but the disease is still present in the Lowveld of Mpumalanga and Limpopo and on the Maputaland coast of KwaZulu-Natal. When planning to visit those areas do tell your doctor so that you can take the appropriate medicine with you.
Safety & Security
The crime rate in South Africa is still high but fortunately it's restricted to townships while the tourist areas are not that exposed. Avoid walking in the city at night and always keep copies of your travels documents at hand. Keep your personal belongings with you all the time especially when using the public transport. Be very careful when changing large amounts of money as well.
POLICE / EMERGENCY: 10111 / 112 (cellphone)
AMBULANCE: 10177
CRIMESTOP: 08600 10 111
CHILD LINE: 0800 05 55 55
LIFE LINE: 086 132 2322
NETCARE 911: 082 911
ER24: 084 124
TRAVEL DOCTOR: 086 130 0911
TOURISM SAFETY & SUPPORT: 086 187 4911
TOURISM & TRAVEL INFORMATION: 083 123 6789
ROAD & TRAFFIC INFORMATION: 084 303 0345
TELEPHONE DIRECTORY: 1023